PAYROLL CALENDAR 2023
| | | |
| --- | --- | --- |
| PAYROLL CYCLE | PAY DAY | SCHEDULED POSTED FOR |
| 10/15-10/28 | 11/4 | 11/12-11/25 |
| 10/29-11/11 | 11/18 | 11/26-12/9 |
| 11/12-11/25 | 12/2 | 12/10-12/23 |
| 11/26/22-12/9/22 | 12/16 | 12/24/22-1/6/23 |
| 12/10/22-12/23/22 | 12/30/22 | 1/7/23-1/20/23 |
| 12/24/22-1/6/23 | 1/13 | 1/21-2/3 |
| 1/7/23-1/20/23 | 1/27 | 2/4-2/17 |
| 1/21-2/3 | 2/10 | 2/18-3/3 |
| 2/4-2/17 | 2/24 | 3/4-3/17 |
| 2/18-3/3 | 3/10 | 3/18-3/31 |
| 3/4-3/17 | 3/24 | 4/1-4/14 |
| 3/18-3/31 | 4/7 | 4/15-4/28 |
| 4/1-4/14 | 4/21 | 4/28-5/12 |
| 4/15-4/28 | 5/5 | 5/13-5/26 |
| 4/28-5/12 | 5/19 | 5/27-6/9 |
| 5/13-5/26 | 6/2 | 6/10-6/23 |
| 5/27-6/9 | 6/16 | 6/24-7/7 |
| 6/10-6/23 | 6/30 | 7/8-7/21 |
| 6/24-7/7 | 7/14 | 7/22-8/4 |
| 7/8-7/21 | 7/28 | 8/5-8/18 |
| 7/22-8/4 | 8/11 | 8/19-9/1 |
| 8/5-8/18 | 8/25 | 9/2-9/15 |
| 8/19-9/1 | 9/8 | 9/16-9/29 |
| 9/2-9/15 | 9/22 | 9/30-10/13 |
| 9/16-9/29 | 10/6 | 10/14-10/27 |
| 9/30-10/13 | 10/20 | 10/28-11/10 |
| 10/14-10/27 | 11/3 | 11/11-11/24 |
| 10/28-11/10 | 11/17 | 11/25-12/8 |
| 11/11-11/24 | 12/1 | 12/9-12/22 |
| 11/25-12/8 | 12/15 | 12/23/23-1/5/24 |
| 12/9-12/22 | 12/29 | 1/6/24-1/19/24 |
| 12/23/23-1/5/24 | 1/12/24 | 1/20/24-2/2/24 |
To access your paystub, update your contact information, direct deposit, or tax information please click  HERE, and then follow the instructions below to login:
Username: current email address
Password: if you don't know it, 

click "forgot password" to reset it

Login and then click on the circle icon at the top right of the page with your initials in it to update your information
If you're having issues and need assistance please email lizzie@swimoc.com
All non-exempt employees are required by California law to take mandatory paid and unpaid rest breaks depending on the length of your scheduled shift. Please see the chart below for details and do not hesitate to reach out to your manager on duty with any questions about California break laws.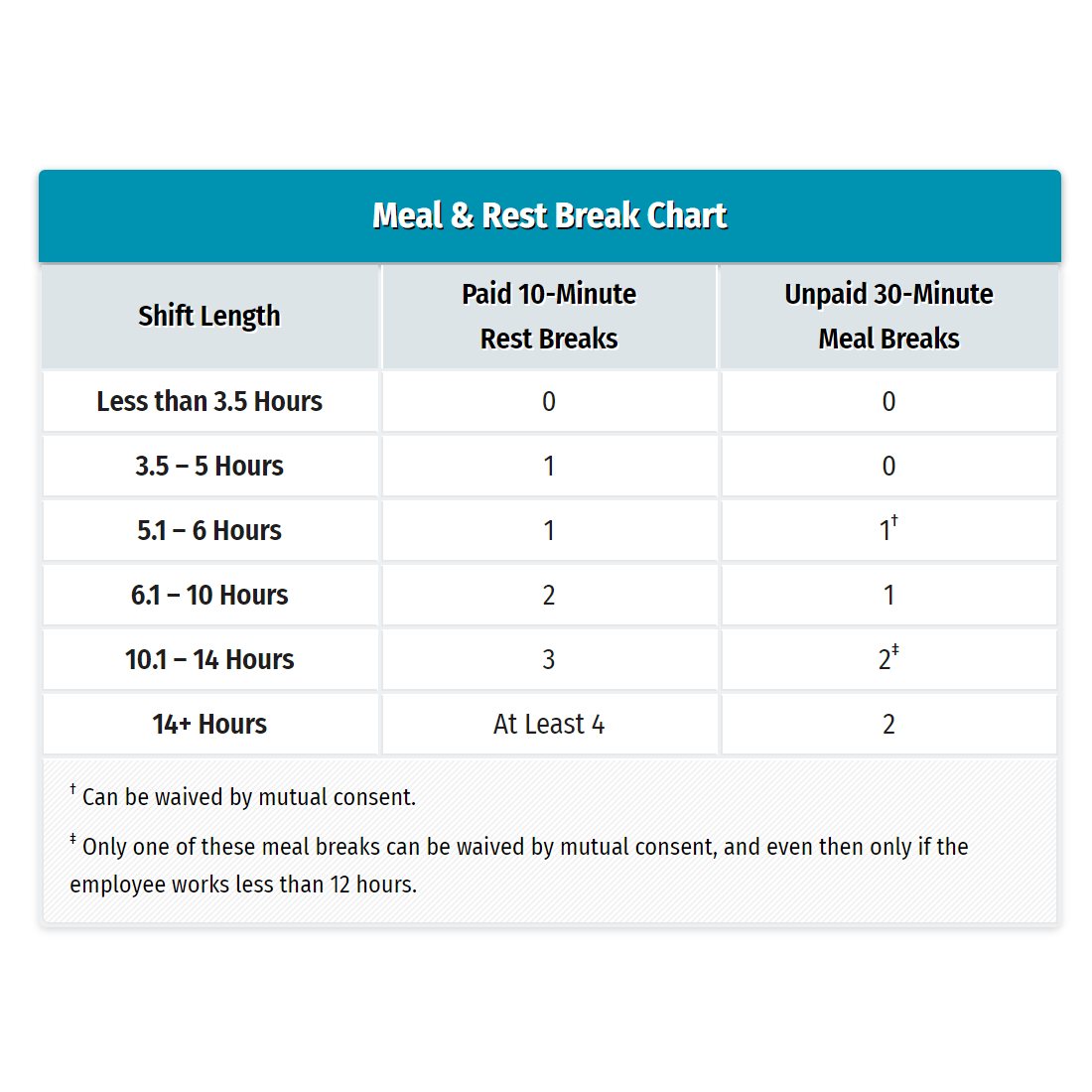 How do I know which manager is on duty?
You can log into the When I Work app and adjust the filters to view who else is working. You can also find manager's contact information through the When I Work app!
I'm running late to my shift… Who can I call?
Lifeguards: Call your Regional Manager on duty ASAP! If your pool has a deck phone, like the Aliso Viejo Aquatic Center or any of the Laguna Woods pools, call that number to give the lifeguard a heads up as well.
Swim Instructors: Call Tristan Saltonstall ASAP! Didn't get through? Call Stephanie Wilson.
I'm scheduled to manage a loop, or pool, that I've never been to before. How do I know what to do?
Be sure to check the employee and manager portals for information before your shift, and once you get to the pool you're working at you can find all of the opening/closing procedures, pool rules, and contact info in the lifeguard binder. If you need any additional help, reach out to the Regional Manager on duty.
What do I do if I need a new uniform? 
Our office is open Monday-Friday, from 9am-5pm. Stop in and pick up a new uniform. Pricing is listed on the Uniform Policy tab.