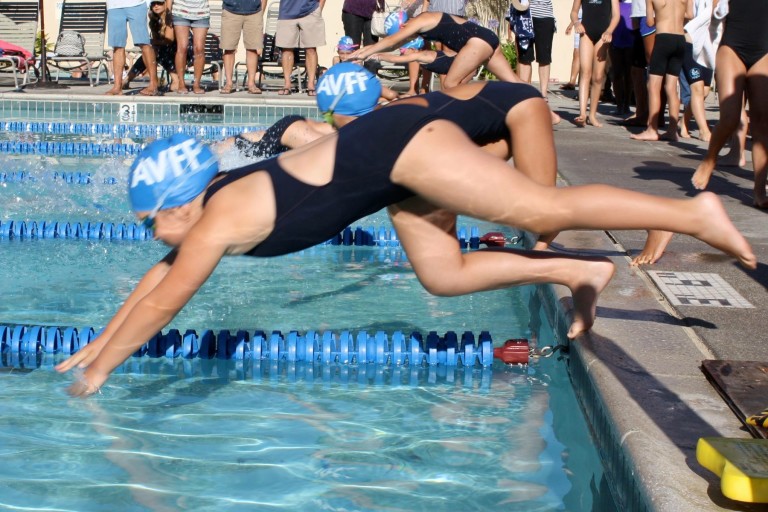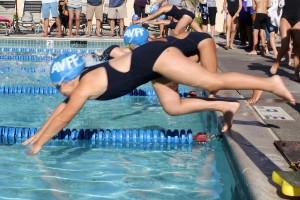 With all of the studies about the benefits of early childhood swim lessons, we often talk about swim lessons for babies and children. However, the benefits of improving swim skills continue long after the basics are established, especially for older children in their pre-teen and teenage years.
As children develop their ability to swim the four major swim strokes and become proficient in basic swim techniques, they need new challenges and a new structure for their swim lessons. To address these growing needs, Premier Aquatic Center developed our year-round and summer swim team programs.
Premier Pre Team 1
After developing proficiency with all four competitive strokes (Freestyle, Backstroke, Breaststroke, and Butterfly) and deck dives, young swimmers graduate from the six stages of childhood swim lessons. Now, they join the Pre Team Program, team-style training classes that prepare children for non-competitive swim teams. In Pre Team 1, children learn to complete turns for all four strokes, as well as streamlines and breakouts. Additionally, they develop an understanding of lane etiquette.
Premier Pre Team 2
Once the skills have been established in Pre Team 1, children advance to Pre Team 2, a higher-level swim team preparation class. Here, children develop their understanding of the clock and proper starts. It's in this stage that young swimmers begin completing a preset swim set, putting all of their skills together.
Premier Swim Teams
The Pre Team Programs are designed to prepare children for the Premier Aquatic Services Swim Team Program. With year-round and summer programs, our swim teams are based upon the philosophy that every child should have the opportunity to learn in very small groups, so each athlete can excel in the sport. Our swim team program isn't a year-round competitive club, but we pride ourselves on building the best possible base for young developmental swimmers, so they will be years ahead of their competition if they decide to advance to a more competitive program.
Premier Aquatic Swim Lessons for Children of All Ages
For children under the age of three, Premier Aquatic Services offers Parent & Me classes that introduce babies to the water. For children who are developing their basic skills, Private Lessons and Group Learn to Swim are designed to address a child's specific developmental level. Additionally, we welcome our adult community members to the pool with our adult swim programs, including Frogman Fitness and Aqua Zumba.
To learn more about our swim lesson programs and register your family for spring and summer classes, visit our aquatic services page. For more information on water safety, follow us on Facebook.