Location
15214 Columbus Square, Tustin, CA 92782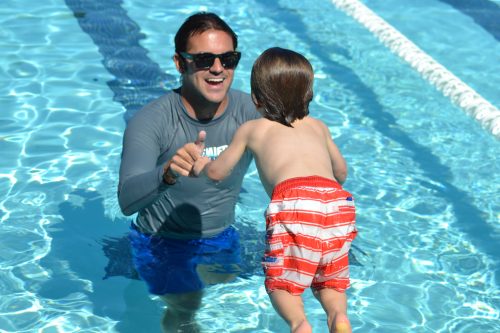 Private Swim Lessons
Private Swim Lessons are available at Columbus Square in Tustin, California, starting May 1st. Lessons run in 20 min increments, and are available from 10:00am- 6:00pm. Our swim instructors use an exciting, customized approach to cultivate a love and respect of the water in swimmers of all ages and levels. Private Lessons, are tailored to meet the needs of each individual swimmer.
Lessons are offered on a perpetual or consistent schedule. For example, if you register you child for a lesson Monday at 4:00pm, that time slot belongs to you until you choose to cancel or move your lesson.
Fee: $39.48 per lesson
*Semi Private Lessons- For no additional cost, customers can add a second child to any swim lesson time slot. This means that the main customer will book the class, and may add a friend or relative to the same class for free. If for any reason the instructor doesn't feel that lessons should be split, they will let the main customer know right away. Reasons may include a major disparity in abilities between the two swimmers.
The Aquatic Center at Columbus Square is located in beautiful Tustin, CA.
Premier Aquatics offers private swim lessons for all ages at competitive pricing, compared to surrounding facilities.  The swim lessons offered at the aquatic center are designed to teach swimming in the safest and most enjoyable way possible.  Participants will be paired with an instructor who is eager to teach and loves what they do!  Swim lessons will begin in May and will continue through the duration of the summer.  Throughout the entire learning process, swimmers will be having a great time!
On a weekly basis, Columbus Square Aquatic Center is guarded by our awesome Premier Lifeguards.  These lifeguards are all qualified and trained to overcome any situation.  Their primary goal is to keep pool-goers safe and comfortable.  They act as superheroes around the water.
Residents of Columbus Square are able to book birthday parties at the pool as well.  Splashing around in the pool and soaking up the sunshine is a fun and enjoyable way to spend any birthday! Residents are able to have private lifeguards at their birthday parties, to ensure that all individuals attending the party are able to have fun in a safe way.
Whether you are interested in having a fun day by the pool, learning to swim through one of our swim lessons programs, or staying conditioned and competitive on swim team, the Columbus Square pool in Orange County is the place to be!
If being a lifeguard or swim instructor at the Columbus Square pool is something that interests you, please visit our website at swimoc.com/orange-county/aquatics-jobs/ for more information on available jobs and how to apply.