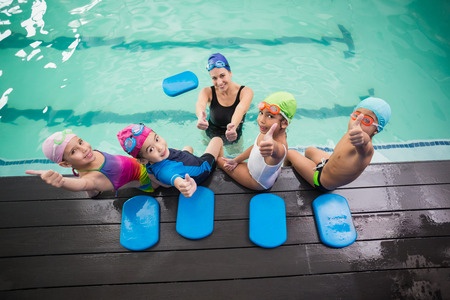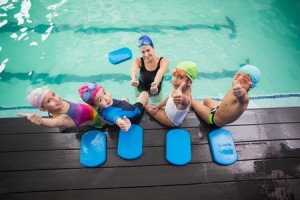 Simply put, people learn in different ways. Some do better with individualized attention, while others are driven by a bit of competition. Sometimes, people need one-on-one time to get started with a new skill, and then thrive in a group environment in the future. The team at Premier Aquatic Center understands that individuals have varying needs.
Many parents of young swimmers inquire about whether their child should have private or group swim lessons. Just like your child, the answer is unique and our recommendation depends on your child's specific circumstances. However, by considering your child's goals, you may be better equipped for deciding between group or private swim lessons.
Establishing Trust and Comfort – For children who are apprehensive about the water, one-on-one time with a highly trained swim instructor may be the best option for developing trust – both of the teacher and of the process. As the child's comfort level increases, it may become more helpful to be among other children who are also learning similar skills.
Improving Confidence – Depending on the child's past experiences and current skills, confidence may first need to be established in private lessons, where the child is learning the basics. However, that confidence can grow by leaps and bounds when the child joins group swim lessons and starts to benefit from a team environment.
Building Skills – Children are like little sponges when it comes to knowledge, and for those who are building upon their skills, it can be very beneficial to be among other students. Little swimmers are incredibly adept at watching how other children are moving in the water, and group lessons allow them the opportunity to mimic the motion.
Overcoming Challenges – For nearly all swim students, a time will come when they find a particular skill challenging. Students who are enrolled in group swim lessons can sign up for supplemental private swim lessons to help them work on the skill in a one-on-one setting.
Learning Advanced Skills – After participating in our summer swim teams, some of our swimmers seek out a more competitive swim team program. For these swimmers, private lessons offer the opportunity to work on techniques unique to their strengths and weaknesses.
Talk With The Experts About Your Child's Swim Lessons
Regardless of whether its group or private swim lessons, Premier Aquatic Services swim instructors use an exciting approach to help swimmers of all ages develop a love of the water. To learn more about our swim lesson programs and to register your child for summer and fall classes, visit our aquatic services page.
For more information on water safety, follow us on Facebook.